Britain Votes to Leave



Financial Markets' Immediate Reaction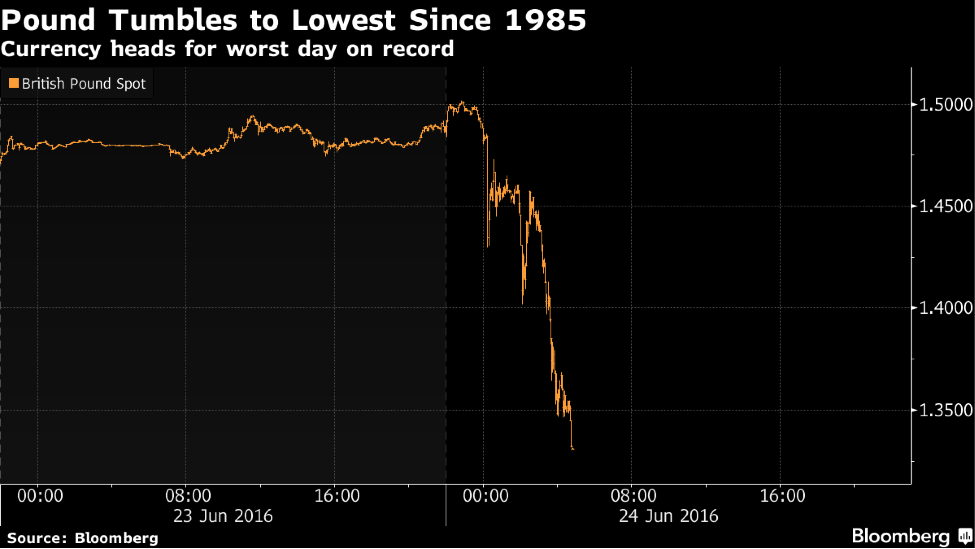 As an aftermath of Brexit poll, Pound plunged as low as 11%, the biggest drop ever! It was the worst day for sterling since the currency floated in the early 1970s. The pound plunged to the lowest since 1985, FTSE 100 Index fell 8.5 percent – in one of the most dramatic 24 hours in modern British history.
To put things in perspective, today's decline in the pound far exceeds its previous record decline in 1992, when it fell 4.1 percent on Black Wednesday, the day the currency was forced out of Europe's exchange-rate mechanism.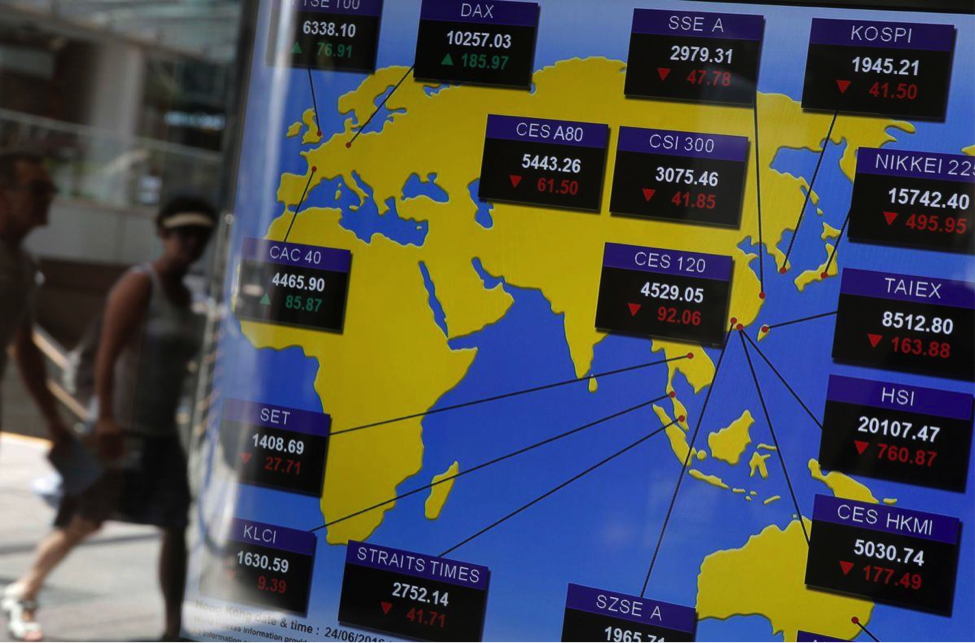 The market rout had echoes of the 2008-2009 financial crises. The pound fell as much as 11% to $1.3229, on course for its worst day on record. Oil tumbled 6.8 percent, gold jumped 8.1 percent, 10-year US Treasuries fell 25 bps to yield 1.5% higher. Futures on the FTSE 100 Index fell 8.5 percent. As investors rushed for security, gold surged as high as 1358.58 an ounce – an 8.7% jump.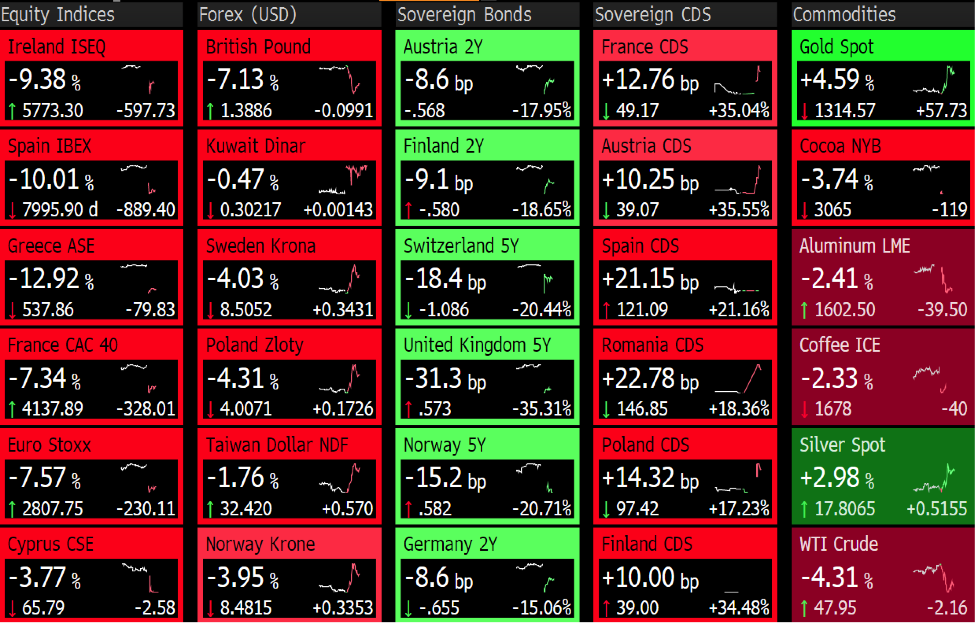 New York crude oil retreats as much as 6.8 percent to $46.70 a barrel. S&P 500 Index futures slump as much as 5.1 percent, triggering a trading curb Yen strengthens 3.2 percent to 102.85 per dollar, after reaching 99.02 The euro slumped 2.6 percent, while currencies in Norway, Sweden and Australia posted even steeper losses.
Gold posted its biggest one-day gain since the 2008 financial crisis, dropping 5.1 percent $1,321.05 an ounce. Silver rallied the most in 18 months.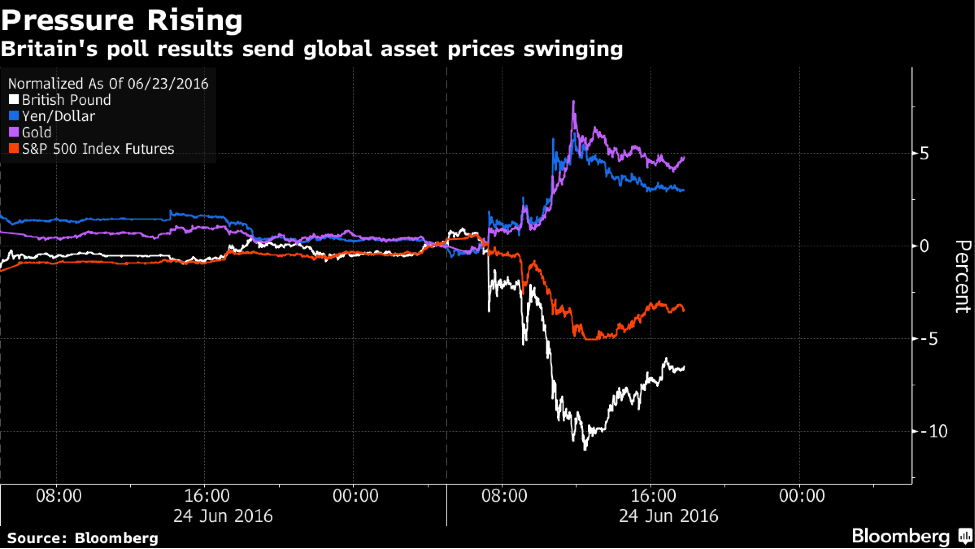 The Stoxx Europe 600 Index tumbled 6.9 percent, with trading volumes more than five times the 30-day average.
The result may prompt the Federal Reserve to delay raising rates. The Swiss central bank intervened to stabilize the franc and pledged to stay active in the market. Denmark, Switzerland and Japan could intervene in markets to avoid surges in their currencies.
Political Fall-Out
David Cameron has resigned as the Prime Minister and will leave his office by October this year.
The vote result deepens splits in the U.K. politics by raising the chances of another impulse for Scottish independence.
Beyond UK, it may instigate thoughts that more countries could withdraw from the EU and gives a boost to populist insurgents such as Donald Trump and Marine Le Pen.
Above all, the outcome shows just how disappointed Western electorates have become with the political establishment for the inability to deliver more inclusive economic growth.
Now, Merkel and French President Francois Hollande need to rally confidence in a project increasingly questioned by populists like Le Pen in France and Italy's Five Star movement.
To Merkel and Hollande, who discussed the outcome for 20 minutes on Friday morning, the EU is a symbol of Europe's resurgence from World War II. But to others it's resonant of weak economic growth, high unemployment and overbearing regulation.
"Hurrah for the British!" tweeted Geert Wilders, the anti-EU, populist leader of the Dutch Freedom Party that leads in opinion polls ahead of elections in the Netherlands next spring. "Now it is our turn."
Who's Replacing Cameron?
Johnson is the bookmakers' favorite to succeed Cameron.
Other potential heirs include Justice Secretary Gove and Home Secretary Theresa May.
Whoever takes over is likely to seek his or her own mandate with another general election, meaning British voters may have to go to the polls for a third time in two years.
There's also a question mark over the future of the Brexit lobby and its key figures such as Farage, who were excluded from the official "Leave" campaign. In a statement outside the Houses of Parliament, Farage called for a "Brexit government."
Future of London as a Financial Hub
Financial services industry will probably face most immediate and deep negative impacts from Brexit. It employs more than 2 million people nationwide and paid 66 billion pounds ($88 billion) in tax last year (Source: Bloomberg).
London's place as a global financial capital may get threatened, especially if the U.K. loses "passporting" rights which allow banks to reside in the U.K. and sell their products and services throughout the EU.
Jamie Dimon, CEO of JPMorgan Chase & Co., said this month that a vote to leave could mean a quarter of their employees may lose their jobs. JP Morgan employs over 16,000 in London and other British cities.
Morgan Stanley and HSBC have indicated similar undertones.
Author:
Bilal Hasanjee, CFA®, MBA, MSc Finance
Sources: Bloomberg, Reuters, The Economist, Wall Street Journal, FT, The Globe and Mail, Financial Post